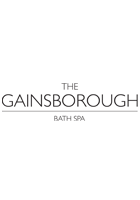 The Gainsborough Bath Spa was originally built in the early1800s, The Gainsborough Bath Spa occupies two Grade II Listed buildings with distinguished Georgian and Victorian façades in the heart the world heritage city of Bath. The Hotel is named after the artist, Sir Thomas Gainsborough and is one of Bath,s finest hotels. The hotel offers guests a ritualised tour of thermal baths, saunas, steam room, ice chamber and elegant relaxation rooms,All of which is reminiscent of the bathing rituals of the ancient roman inhabitants of early Bath
The rooms and suites at The Gainsborough Bath Spa are  furnished, referencing period details combined with contemporary design while including all the functional stuff that the modern guest  has come to expect.
Our accommodation is includes luxurious bedding and generous wardrobes to cordless phones and full black out window coverings. Each room and suite also features an iPod docking station, a flat screen HD television, Roberts radio with Bluetooth connectivity, complimentary WiFi and radiant heated bathroom floors.
The Gainsborough also offers a selection of rooms  designed for disabled access and ease.