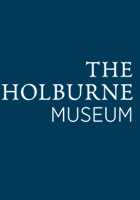 The Holburne museum is an amazing location situated at the end of Great Pultney street. You can often see great art exhibitions at the Holbourne, along with other great events featuring talks and lectures, workshops and our favourite, movies under the stars.
Admission is free, a donation is asked for to help ensure the Holbourne remains great, memberships are also available to help support the cause.  Dont forget to visit the amazing Garden Cafe located on the rear of the building.
This spectacular location is also available for event hire, allowing you to host your wedding and other parties here.